Bantu support blog
asdar.id
agar bisa lebih berkembang lagi untuk membagikan ilmu pengetahuan secara gratis. Caranya yaitu dengan menyisihkan sedikit rejeki anda melalui laman donasi, klik
DISINI
. Semoga apa yang anda berikan bisa menjadi penolong di Akhirat kelak, Amin Ya Rabbal 'Alamin :-)
This was our last day in Banda Aceh. We planned our last day with a city tour Sabang-Aceh. Our destination was not quite many considering the time that we could not stay longer. Finally we began our journey to zero kilometers which was located not far from our lodging. The distance may be about 8km away.
It was drizzling when we got there. Everything was cloudy. As we passed by a black car, we just knew that there was a regular attendant who can make a certificate of our arrival at the monument of the zero kilometers for us. The cost of making the certificate was IDR 30,000 / person, suitable for used as a keepsake when I get home.
Unfortunately, it turned out the zero kilometer monument was being renovated so we could not get into it. Finally we saw a small market where it was sold a variety of souvenirs and pavement cafés. We're getting hungry. So we also ordered Aceh noodle.
When we ordered Aceh noodle, suddenly it was raining so most visitors moved to find dry places. While waiting for the rain to stop, we observed monument renovation activities at zero kilometers. It turned out that iconic building was being dressed up to be even more beautiful by building a monument that would be higher than 20 meters to 45 meters.
According to the officer there, the renovation process has been running for two years and estimated to be completed end of 2016 ago.
Okay, because it does not get the expected moment in Indonesia's outer ground, we finally decided to go home and to Banda Aceh. We crossed back to the port of Ulee Lee, this time using speedboats at 10:00 noon then we were already in Banda Aceh.
Initially we were going straight to the airport. But pedicap motor driver that drove us to offer us to accompany us around the city of Aceh. We immediately said yes, after previously asking rates.
So, from the port of Ulee Lee to the airport we rented a motor rickshaw for IDR 70,000. Then, because this offering to destinations around Aceh Tsunami Museum, home Cut Nyak Dien, Boat Fish in the Upper House and a place where we could buy souvenirs typical of Aceh.
1. Cut Nyak Dhien House
Then we were escorted to the house of Cut Nyak Dien. The building was so thick with the peculiarities of Aceh. It shaped house on stilts with palm roofs and painted with the dominant colors red and yellow. Some people refer to this house as well History Museum Aceh. It is located at Jalan Mahmud Shah Alauddin, Banda Aceh, the museum holds history into Aceh with a collection of objects that exist in it.
Here you will find rooms Cut Nyak Dien and rooms at concubines. There are different types of tools; agricultural equipment, household appliances, traditional weapons and traditional clothing are also on display there. You could also see a collection of objects of ancient manuscripts, photo documentation of the development history and development of Baiturrahman Mosque.
The most popular object there was a bell around 1400 years old.
loading...
2. Tsunami Museum
The museum was located at Jl. Sultan Iskandar Muda, Sukaramai, Baiturrahman, Banda Aceh. Museum designed by architect Ridwan Kamil from Indonesia has a very unique shape of the building.
At the beginning visit to this museum we were treated to a long corridor and high walled dark black. The high wall of water was flowed and given the strains of music stirring our heart. The hallway was not intended for people who suffer trauma as a result of the tsunami disaster, that room was purposely built so that the people who go into it will feel the aura of fear and panic that struck the victims of the Tsunami in 2004.
Then when the light starts to shine, we got to the room containing dozens of computer screens showing documentation about the atmosphere and the victims of the Tsunami. In this museum there is a prayer room, which is a tube-shaped room extends upward to the ceiling pictorial with Allah script. The walls were painted black and plastered with the names of victims of the Tsunami disaster. Strains of Islamic prayers rang out in the room to add the grey shades of suffer ever experienced by the people of Aceh 12 years ago.
This museum was built as a center for education and shelter if a tsunami came back. The Museum opened every day except Fridays from 10:00 to 17:00. No entrance tickets or free.
3. Fish Boat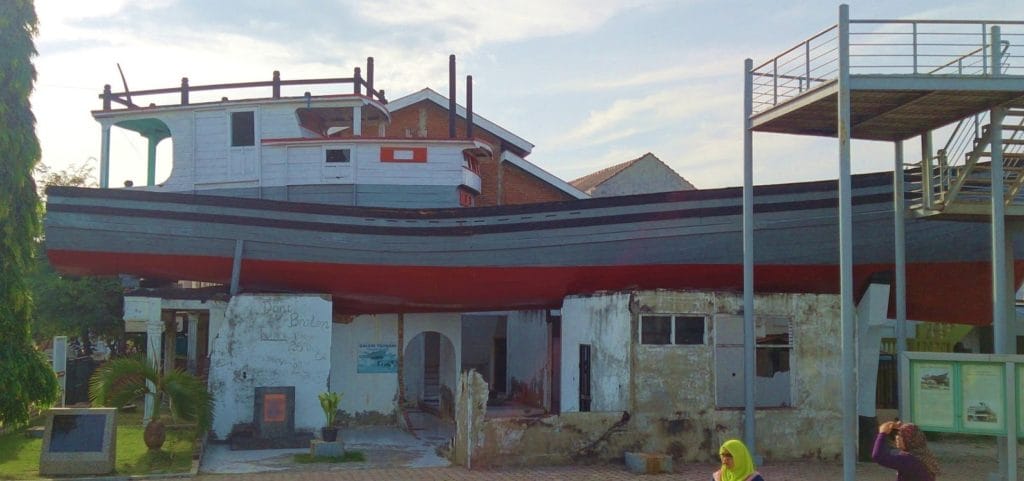 There were unique things remained high due to the waves of the tsunami. One was a fishing boat that concerned over a resident's home. This unique event not only left the story, but it became a phenomenon and made a famous tourist attraction in Banda Aceh.
Ships were becoming media of lifeline for 59 people when a tsunami got in the Village Lampulo, district. Kuta Alam, Banda Aceh. There was no public transportation to get to this location, there was only a motor rickshaw that you could take on the city terminal at the rate of IDR 20.000. The exact location was near the health center office Lampulo, just behind the elementary school (SD) 65 Coca Cola Banda Aceh.
It was the uniqueness you would feel when you saw a ship with a weight of around 20 tonnes were on top of a house. It was hardly wait to be able to capture the moment. But unfortunately, when we get there the gate was still closed so we could only see from the outside.
Actually there was one place that should not be forgotten while visiting Banda Aceh. Yes, Baiturrahman mosque. It was located on the same street with his name and was near Tsunami Museum, the mosque was built by Sultan Iskandar Muda Mahkota Alam in 1612 and once burned on 10 April 1873.
The oldest mosque in Southeast Asia had a dark black dome with white walls in bright colors. This mosque was one of the centers of education and worship, popular not only here at home but around the world.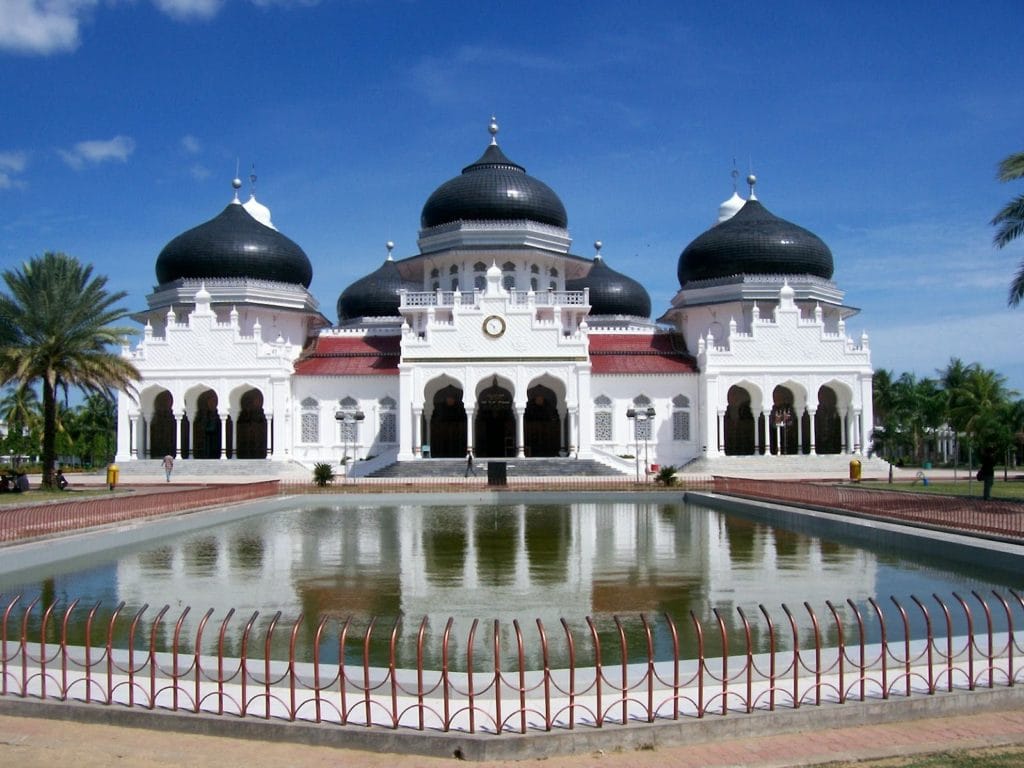 However, when we get there the mosque was in the process of expansion. According to the plan, Baiturrahman Mosque would be built similar to the Prophet's Mosque in Madinah there. Extraordinary!!
Don't forget to share this article in below to your social media!